Brain Test Level 2 Answer | This is a fun brainteaser called "Brain Test" that will challenge your intelligence at extreme levels. It consists of difficult riddles and tricky tests which can make you feel like an average Joe sometimes, with their absurd solutions!
But don't worry – this game requires lots of thinking outside the box so be prepared for it 😉 and even if you don't know the answers we have answers for Brain Test Level 2 What is the hidden number.
Braintest Answer : What is the hidden number?
Brain test answer level 2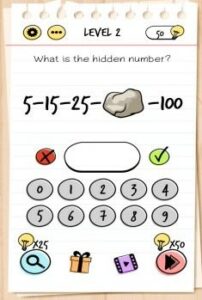 About Brain Test Game:
Brain Test is a free, addictive puzzle game that will test your wit and skill as you attempt to solve brain teasers. You can enjoy it with friends or family members in an online IQ competition!
Brain Test is a great way to exercise your grey matter, and it's even better when you play with others. The game will make sure that every part of the brain gets some good use!