This Ikea Karbly desk review and setup ideas list concentrates on how to make the most of a computer desk on a budget. While the Karbly tabletop has its benefits as well, most purchasers are aware of its value for money.
The Ikea Karlby is a computer desk butcher block countertop. It has two different sizes of just over 74″ and 98″ to make an attractive desktop that is also durable. The Ikea Karlby countertop may be mounted on desk legs or on desk drawer units like the Ikea Alex drawers.
Ikea Karlby desk review with examples
The quality of Ikea countertop desks is such that they can endure for a lifetime. We've seen a few of them on Roshankh before, but it's time to delve further into the Karlby desk arrangement and the Ikea Karlby countertop now.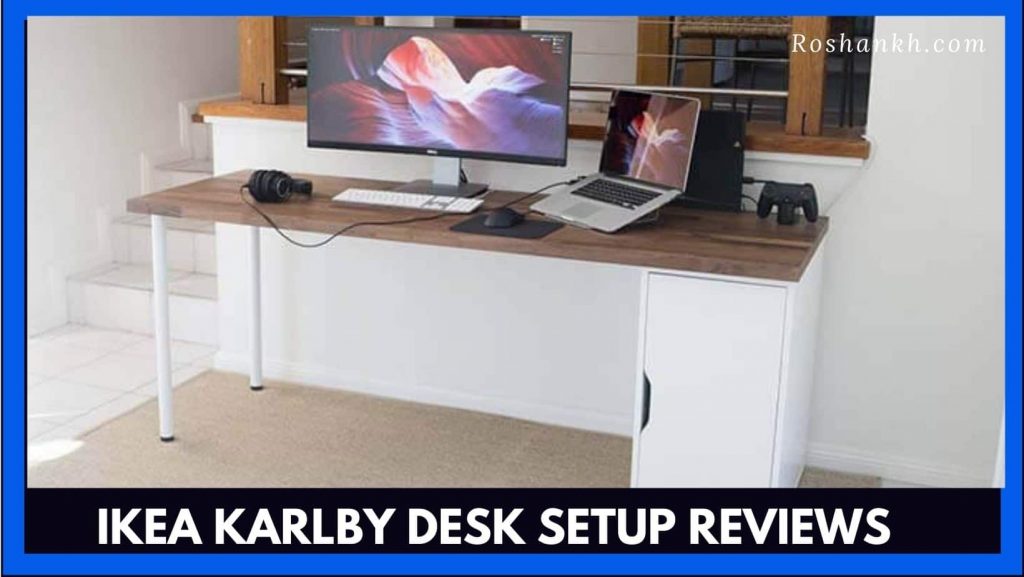 Materials
Ikea's Karbly desk set-up, for example, employs a countertop constructed of walnut veneer or oak veneer combined with particleboards. The Karbly desk countertop construction creates the illusion that the entire surface is made out of solid wood by utilizing a layered design.
Sizes
The Karlby desk from IKEA can be found in two sizes. Both of them may be used to suit different setups, particularly when it comes to saving space or enhancing storage options.
Short Ikea Karlby desk sizes
Veneer thickness 1/8"
Length – 74"
Depth – 25 5/8"
Overall thickness – 1 1/2 "
Long Ikea Karlby desk sizes
Veneer thickness – 1/8"
Length – 98"
Depth – 25 5/8″
Overall thickness -1 ½"
Looks
What color would an Ikea Karlby desk be? You can mix and match the dark walnut or light oak finish to create a desk that meets your needs. The majority of Karlby desks seen are only installed with the walnut countertop, yet given its scarcity, new oak configurations appear on a regular basis.
Assembly as a desk
The Karlby tabletop is somewhat hefty, and it can support its weight comfortably on desk legs. If you're using Alex drawers as legs, there's no need to drill anything. You'll only require four rubber washers per Ikea Karlby countertop to keep it in position if you use Alex drawers as legs.
Warranty
A Karlby tabletop may be hacked into a workstation. This is one of the most durable items available, but it doesn't cost thousands of dollars. The counter on your Karlby setup is covered by Ikea's warranty for the first 25 years. Where else can you get such great protection?
Karlby desk assembly
It's not difficult to put together an Ikea Karlby desk. Some people believe this is the simplest desk arrangement you can do at home without having to cut wood.
The simplest approach to implement is to purchase two Ikea Alex drawer units. These drawer units, which are available in black and white, provide storage while also being simple to put together.
Price
A Karlby desk, on the other hand, is far more elegant than its countertop. The cost of your countertops is determined by the sort of grain, size, and thickness.
Your area will gleam with beauty and warmth thanks to the natural wood's affordability. If you were purchasing laminates or granite, the expense would be far greater than $300 for a desk that is 78″ x 42″. Karlby Desktops are more cost-effective when compared to their materials, but they are frequently less expensive.
All-time Refinishing
One of the greatest features of these workstations is that they may be readily refinished using fine-grit sandpaper and resealed with wax-oil or mineral oil at any moment. If you get scratches on your desk while working, simply sand it and apply oil to restore it.
Although they are rather easy to starch, they do not need a lot of upkeep. It is not suggested to use a knife on these tables since they are quite durable and handy. The starches, on the other hand, may all be treated.
Quick Installation
They are also simple to set up, with an Ikea user guide for assistance. It has been treated with hard wax oil, making it ready to use and requiring no additional finishing in these countertops. They're quick and easy to construct because you can cut them down to your preferred size using basic home workshop equipment.
Working with hardwood counters has a number of advantages. Because the corners of wooden countertops don't require mitring, they look much nicer than laminate or granite worktops. The straight-cut hardwood countertop features two large pieces that appear very elegant and refined. They're also simple to cut and adjust for your room's size.
Easy Cleaning
One of the most appealing features of walnut countertops is their simplicity in maintenance. They may be cleaned with a bit of vinegar sprayed on them. It will clean your desk quickly and without requiring water, which might damage your countertop in the long run.
If water pools on your wood counter, it will slowly deteriorate it. When cleaning, wipe away any water from the counter.
Environment-Friendly
These desks are an excellent ecological alternative since the countertop is made using a resource-efficient technique. It utilizes a top layer of wood on particle board, reducing environmental impact.
It also has the ability to be reused or used for energy recovery, and it only utilizes legally harvested wood in the process.
Asks for maintenance
These are not for you if you're searching for a desk that requires no upkeep. They are made of dark wood and can easily gather dust, specks, and even stains, so you'll need to wipe your desk regularly to keep it clean and bright. They also require periodic maintenance in order to age gracefully.
It is perfect for food prep, cooking, and baking. You may utilize them as a computer desk or kitchen countertops, among other things. They can be utilized in a variety of ways and have earned a following because to their durability. Only sustainably sourced wood was used to make this desk's construction.
To preserve the wood and avoid it from cracking, you must condition and oil it every now and again. Treatment also ensures that your wood ages gracefully and darkens to a rich honey color.
Your room come to life
If you have the Ikea Karlby desk, your area will come to life. You'll appreciate the room and be able to get your job done more quickly if you use it as a workstation.
The warmth in this design is achieved by the almond-shaped legs. This style is perfect for establishing a relaxing and pleasant atmosphere. You may also use them in your laundry room or at the head of your dining table. Instead of just using it in the kitchen or as a desk for your space, you might experiment with ways to utilize the countertop desk.
Although its counterparts have a cold and sterile atmosphere, the wood grains have a different warmth and cozy feeling. It offers optimism and friendliness, making your house feel more like home. Despite all of the benefits, there are some drawbacks to using real wood countertops.
Quartz is very delicate and prone to heat damage, which can leave burn scars on the countertop if proper attention is not paid. Wood can expand and contract in response to extreme humidity and dryness, causing cracking. These countertops are not suited for bathrooms where there is a lot of moisture since quartz may swell and shatter under these conditions. Excessive dampness might likewise cause the wood to discolour and decay. As a result, these worktops need regular care.
Advantages and Features
Few advantages and disadvantages from Ikea Karlby Desk Review:
kea Karlby desk hacks:
If you're only purchasing the short 74″ Ikea Karlby version, you don't need the middle leg.
The Ikea Adils leg is a great option for avoiding sag on the Karlby 98" desk (drill required).
If you're making an IKEA Karlby Alex desk, you don't need screws. The Alex drawers include four plastic feet that you can insert between the unit and the Karlby surface to prevent sliding.
To make cable holes on the back of your Ikea Alex drawer unit, you'll need a drill.
The Ikea Karlby desk can handle up to three monitors.
For cable management, you can use Ikea's Signum.
Ikea Karlby desk Video:
Ikea Karlby desk examples:
Ikea Karlby with square legs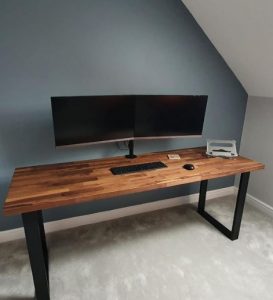 The Karlby desk is one of the simplest and most long-lasting DIY projects you can do. The square metal legs employed in this design are also quite robust. In order to create an equally-stable workstation that you may type on at speed with complete ease, H-style legs would be suitable as well. With such a desk, you may easily work with two to three monitors while still having space for storage on the countertop.
Ikea Karlby Black Alex desk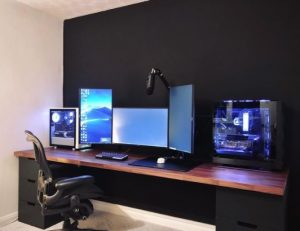 The most common desk drawer unit is IKEA's Black Alex drawers. Their black variant, on the other hand, offers a covert quality that you can take inspiration from. The walnut-finish Karlby has excellent contrast in this arrangement. It would be reasonable to assume that the oak-finish Karlby would have looked even better. Since all of the desk's add-ons are black, this arrangement appears flawless to individuals who seek to save money on their setup design.
Ikea Karlby desk with Alex drawers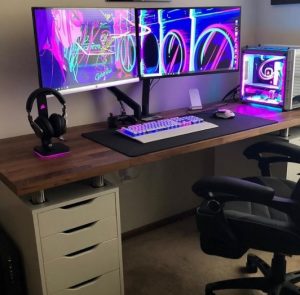 The white Alex ikea karlby desk review with riser legs is as intriguing. It's the second most crucial device you can make on your own. At the same time, it's critical to think about drilling when constructing this arrangement because each metal leg should be fastened with four screws.
Oak Ikea Karlby desk setup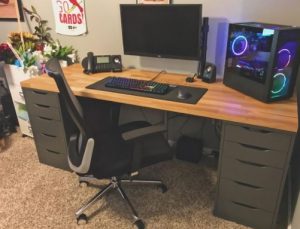 The bright oak Karlby desk is one of the most powerful alternatives to walnut computer desks you can find. It has a classier appearance and certainly gives the impression of solid wood.
Conclusion
If you're searching for a simple yet beautiful desk, the Ikea Karlby is your best bet. It's far less expensive than granite, and it has a more carefree and easy-going ambiance about it. It adds spice to your workstation and makes it inviting.
The walls of the buffet are adorned with four round pedestal tables, which have exposed stainless steel legs. Tallow finishes may be sanded and polished to bring out the beauty of these solid wood pieces. They look lovely in person and develop a beautiful patina over time. They can simply be sanded and treated with oil to restore them. It
Wood does not require the same upkeep as laminates and other solid-surface counters, making small scratches, burns, and dents much easier to repair. Wood also has natural antibacterial and antifungal qualities, which makes it a healthier choice than stone or laminate countertops.
Apart from the Ikea Karlby desk, you may also consider the Herman Miller Setu chair, which is both environmentally friendly and reasonably priced and offers a chair of comparable quality. It has a kinematic support structure that makes it one-of-a-kind and attractive.
A wooden countertop, therefore, adds warmth and beauty to your house while also creating an inviting and relaxing atmosphere. It is both elegant and casual at the same time and if you are searching for alternative then you may check Best Ikea Desks for Gaming
FAQ:
Which Ikea Karlby desk size is right for you?
If you're not sure whether to go for Karlby 21 inches or Karlby 30 inches, you'll need to know what you can expect in terms of storage. Because there are just two alternatives, you must select the one that best represents your requirements.
The benefits of the short Ikea Karlby desk
The Ikea Karlby desk is ideal for small areas and bedrooms. While it still looks fantastic, the price difference isn't sufficient to justify acquiring it if you have enough room.
The benefits of the long Ikea Karlby desk
The huge Ikea Karlby countertop is ideal for multitasking with multiple monitors. It takes up more than 98 inches but works for almost any computer configuration with wide desktop space.
Is the Ikea Karlby real wood?
The Karlby countertop from Ikea is constructed of a combination of real walnut and oak. Its foundation, on the other hand, is composed of a particleboard piece.
Does the Ikea Karlby sag?
The long Ikea Karlby can sag if you have too many devices on top. Many users add a middle leg from Ikea to avoid this problem. This leg must be screwed in place to stay put.
Can I cut the Ikea Karlby countertop?
You may trim the Ikea Karlby countertop to a thickness of up to 14 mm. In this scenario, it's essential to use the minimum amount of chippings feasible. The newly cut side can be adorned with the lateral veneer band.
Are Ikea countertops good?
The majority of Ikea countertops are beautiful as well as sturdy. Most of them come with a 25-year warranty, suggesting they can be used as kitchen or desk counters for a long time.
How heavy is the Ikea Karlby?
The short Ikea Karlby weighs 60.6 pounds.