here in this post, you will see the best Venusaur Pokemon unite builds items as well as moves that will help to win any game here you will learn about venusaur's abilities, Items, Moves, Combo & Gameplay.

Tier Rating: SS Rank Icon
Role: Attacker
Attack Type: Ranged
Damage Type: Special
Difficulty: Intermediate
Venusaur Pokemon Unite build
Long Range Build
Moves


Held Items

Battle Items

Offensive Drain Tank Build
Moves


Held Items



Battle Items

Defensive Drain Tank Build
Moves


Held Items



Battle Items

Venusaur Moves and Ability
Move Slot 1 (R):
Seed Bomb(Lv. 1 or 3): Throws a huge seed at the target location, damaging all nearby Pokemon.
Giga Drain(Lv. 5)-Upgrade Lv. 11: The HP-absorbing ability of this move will slowly restore your Pokémon's health while also restoring some extra beats from each hit. This makes it possible for you to take on more enemies without fear, as long as they are all within range!
Sludge Bomb(Lv. 5)-Upgrade Lv. 11: The sludge splatters on impact, leaving a slimy residue that lingers for 4 seconds. Anyone hit by this move will be slowed and have their Sp defend lowered while dealing damage over time as long they are inside it!
Move Slot 2 (ZR):
Razor Leaf(Lv. 1 or 3): Venusaur's thick leaves make it an effective Pokemon in fierce battles. It can shoot out these sharp objects continuously, damaging any enemies within range!
Petal Dance(Lv. 7)-Upgrade Lv. 13: The Venusaur releases a petal around it and increases its Movement Speed for 3 seconds. During that time, the plant- Pokemon's attack will deal damage to nearby enemy monsters in addition to existing effects from moves like Razor Leaf!
Solar Beam(Lv. 7)-Upgrade Lv. 13: The fired beam of light damages all Pokemon within its path, dealing damage based on your target's maximum HP.
Unite Moves (ZL):
Verdant Anger(Lv. 9): The big seed hurls in a large direction, dealing damage and slowing down enemy Pokemon around it. Then the plant splits into smaller seeds that all do their share of harming while also dragging everyone else towards them like mites to honey!
Standard Attack:
Your attacks are so powerful they cause nearby enemies to cringe in pain. Every third attack, you'll deal an extra dose of damage and pull the target towards you!
Ability (Passive):
Overgrow: When your HP is below 33%, each hit will deal 10% more damage.
Venusaur's Combo
Combo 1: Sludge Bomb ► Razor Leaf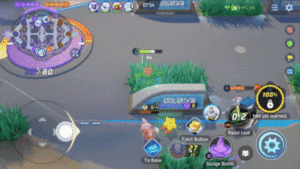 Combo 2: Sludge Bomb ► Solar Beam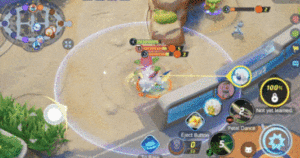 Combo 3: Petal Dance ► Giga Drain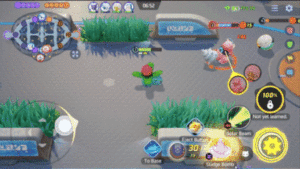 Venusaur's Pros and Cons
Pros:
A large amount of damage can be caused
Long-range.
Single-target moves with a wide area of effect.
Cons:
Gameplay is easy to break.
Good aim is required for damaging actions.
Checkout: Wigglytuff Pokemon Unite build
Venusaur's Gameplay
Venusaur's Unite Move is an attack that shoots out a powerful seed bomb. The radius of this blast determines how far it can hit, but if successful then even those who are afar will be damaged and scatter their stats!