Playing Brain Test puzzles is one of the finest methods to fill your free time and kill your ennui. Brain Test provides a variety of difficult problems that will keep your mind active.
Each stage has its own solution, and you're given tips and hints to figure it out at each level. The majority of the answers are not expected to be resolved in such a manner, so you'll need to think outside the box.There's also a tool in the game that might assist you with the text. We are here if you still don't know how to solve the level.
"Brain Test is a free tricky puzzle game with a variety of perplexing brain riddles. Different puzzles will stretch your mind. This fun and entertaining free IQ game may push the limits of common sense! Prepare to take the test! "Get ready to take the quiz!" says Brain Test Game."
The brain test is a unique and creative puzzle game that tests your analytical thinking. As a result, the game provides a new kind of puzzle experience that may be both entertaining and difficult. You can play Brain Test alone in your room, but it's often more enjoyable when done with others, such as friends or family.
Brain Test Level 81 Answer:
Use the corner ring pad to make his right fist bigger.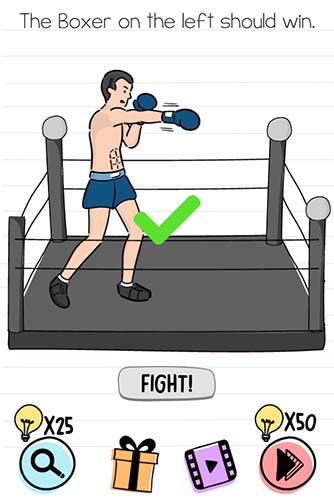 VIDEO Solution for brain test level 81: