Brain Test Level 90 Walkthrough
Playing Brain Test puzzles is one of the most fun and relaxing ways to spend your free time. You'll have a great deal of fun solving these problems since they are both smart and interesting. Every level has its own solution, which you will be given hints and clues for in order to solve it.
The majority of the solutions are not expected to be resolved in such a manner, so you'll have to think outside the box. The game also has a feature that may aid you with text interpretation. We're here if you still don't know how to complete the level.
"Brain Test is a free, challenging puzzle game with a variety of tricky brain teasers. Your mind will be challenged by various riddles. This fun and entertaining free IQ game may push your new mental limits! With this addictive and funny free IQ game, you can play with your friends. Prepare to take the quiz!
"Brain Test is a brain teaser that makes you think outside the box. As a result, the game offers an innovative puzzle scenario that can be both interesting and taxing. You may play Brain Test alone in your room, but it's often more enjoyable when done with others, such as friends or family.
What is Brain Test Level 90 Answer?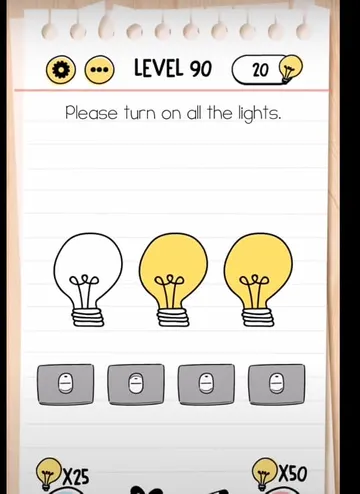 Brain Test Level 90 Answer is to drag and hide one bulb. Then turn on the remaining two bulbs.
Solution for braintest level 90 :